Polypropylene (PP) rope 
Polypropylene is a synthetic material made with monofilaments, has a wide range of applications thanks to its many qualities:
- High breaking strength, good abrasion, weather and chemical resistance (lubricants, petrol, diesel, diluted soda), rot-proof, waterproof, lightweight, easy to tie, easy to splice.
- Plastic appearance, rigid, elongates, shape memory allowing it to deform without breaking and to keep its structure
Technical Features :
Material: Polypropylene
Diameters in stock: From Ø 4 to Ø 30mm and 36mm (Other diameters on order)
Number of strands: 3 or 4 depending on diameter
Colours: Beige, White, Blue, Green (other colours on order)
Appearance: "Shiny" and smooth plastic
Packaging: Crown +/- 100 m or by the meter
Quality: Synthetic
Properties: Rot-proof, Lightweight, Resistant and floats on water
Processing: Anti-UV
Standard: EN699
Tolerance: Diameter, length, strength and weight +/-8%
Non-contractual photo
Use :
treetop adventure course
water sports, nautical sports
DIY
Decoration
Gardening
Lifting
Masonry
Towing
Separation
Cable pulling
Traction
Advantages :
Imputrescible
Very lightweight
Fleet
Very good price/quality ratio
Conservation Tips :
The Polypropylene rope can be stored outside, it is not affected by humidity or UV rays from the sun
It is not designed to be permanently immersed in salt water
It can be weakened at extreme temperatures
Manufacturing :
French and European manufacturing 
Technical sheet
Reference

AR00206

A - Matière

Polypropylène

Type de corde

Corde torsadée

AA Origine

France
Union Européenne

Couleur

Beige

Résistance

Forte résistance de rupture
Forte résistance à l'abrasion
Imputrescible
Traité anti UV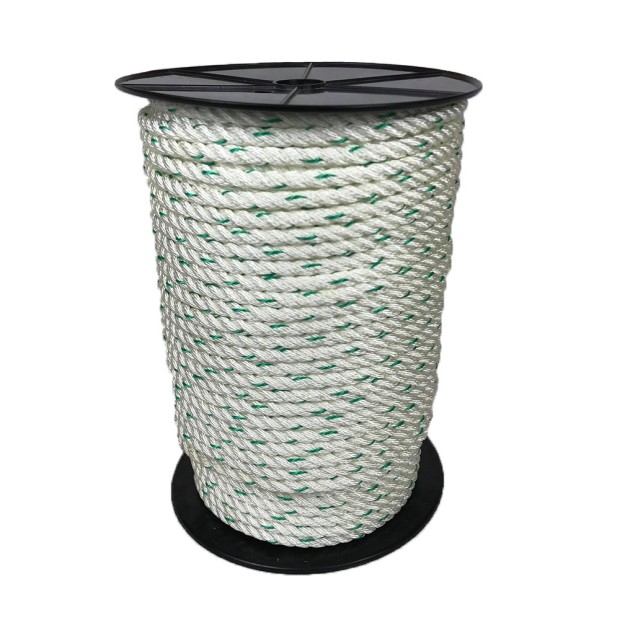 Georges T.
On a fait un rideau pour cacher un dessous d'escalier en bois. Le rendu est joli mais pour redresser la corde mon mari a attaché les lanières entre elles avec de la ficelle
published the 07/11/2022
GUY M.
Je suis très satisfait, cet article est parfaitement conforme à mes attentes.
published the 03/11/2022
Thomas K.
Rapport qualité/prix parfait moin chère que sur d'autre site plus connu . Top 👍🏻
published the 03/11/2022
ERIC A.
conforme a mes attentes
published the 01/11/2022
Marc D.
Très bien, conforme à mes attentes, je recommande !
published the 14/10/2022