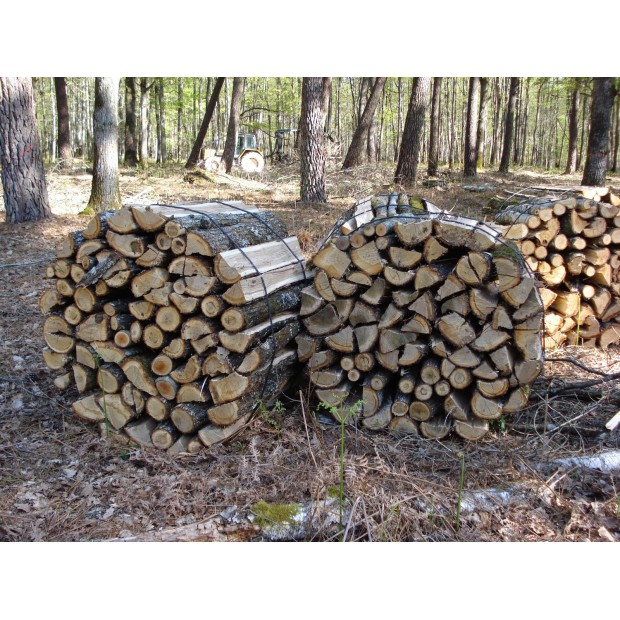 Sawmill Strand PP 8 and 10 wires
Stranded rope for sawmill
Stranded Rope for Wood Wrapper for Sawmills
Strand 8 and 10 yarns of UV treated polypropylene - Packaged in 10kg reels.
18 coils and more: Free shipping costs
Free quotation by quantity
Advantages of the Strand:
Very flexible, slightly elongates and does not break.
Regular and flawless manufacturing for optimum glide.
Superior quality
Made in Europe
Advice on how to use the different Toron ranges:
To bind bundles of firewood and sawmill.
For the proper holding of your bundle: Use a clamping lever to tighten the bundle.
To perform 1 stere: Select the 8 or 10 wires according to your uses and the number of times your stere is moved.
Technical Features :
Number of wires

Breaking Strength

Number of meters / spool

Colours
Spool weight
8  

wires

1 040 kg
420 m
7 black 

wires

, 1 blue 

wire

10kg
10 

wires

1 250 kg
330 m
9 black  

wires

, 1 white 

wire

10 kg
Technical sheet
Reference

TORONPP10300

A - Matière

Polypropylène

Type de corde

Toron fagoteuse

AA Origine

Union Européenne

AA Poids
Customer review
Commande vite livrée et conforme à notre demande. Le petit bag en coton offert est sympathique !! Merci !!
Une des bobines ne présentait pas le bout de départ. De plus la corde présente une fragilité, elle casse quand je sers la corde dans ma fagoteuse, elle casse au niveau du noeud, une corde présentant une rupture à 1000kg, casse quand je la tend à la main... Le tressage de cette bobine n'est pas tendu non plus, que pouvez vous faire ? J'avais été très satisfait des bobines précédentes.