High Density Polyethylene Rope
Polyethylene, a synthetic monofilament material, has a wide range of applications thanks to its many qualities:
Good breaking strength, Excellent abrasion resistance, Resistance to weathering and chemicals (acids and solvents), rot-proof, waterproof, easy to splice
Shiny" plastic appearance, flexible, elongates, shape memory allowing it to deform without breaking and to keep its structure.
Technical Features

 :
Material: High Density Polyethylene
Diameters in stock: Ø 4, 5, 6, 6, 8, 10, 12, 14 and 16mm (other diameters on order)
Number of strands: 4 
Color: Blue or Black according to diameter (other color on order)
Packaging: Crown +/- 100 m or detail by the meter
Quality: Synthetic
Properties: rot-proof, resistant, flexible and floating
Processing: Anti-UV
Tolerance: Diameter, length, strength and weight +/-8%
Non-contractual photo
Use

 :
Hooks and eyes
Agriculture
Mooring
DIY
Campsite
Decoration
Gardening
Lifting
Masonry
Nautical activities
Fishing
Towing
Separation
Cable pulling
Traction
Transportation
Advantages

 :
Rot-proof
Very lightweight
Fleet
Very good price/quality ratio
Conservation tips :
The Polyethylene rope can be stored outside. It does not fear the humidity and UV rays of the sun. 
Commonly used in the fishing industry.
Manufacturing :
European made.
Technical sheet
Reference

AR00799

A - Matière

Polyéthylène

Type de corde

Corde torsadée

A - Longueur

100 m
Coupe au mètre (un seul bout)

AA Origine

Union Européenne

Résistance


Imputrescible
Traité anti UV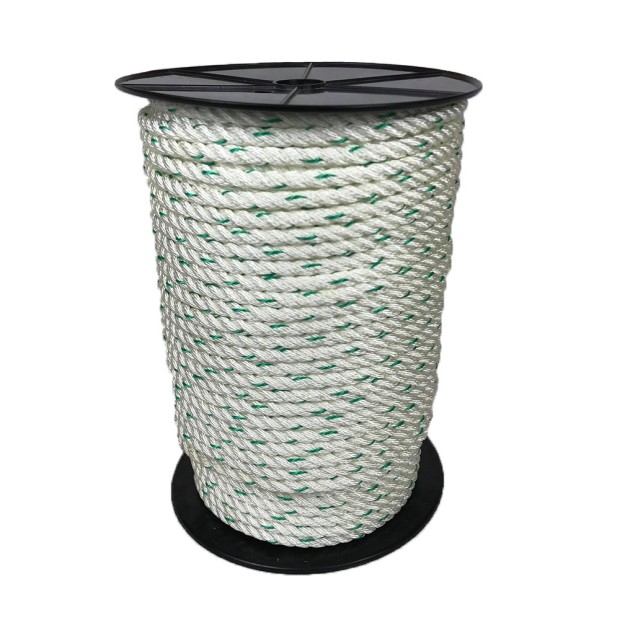 Yves O.
La qualité de la corde est bonne mais mon choix a été mal fait . Il est difficile de faire des noeuds bloquants avec ce genre de cordage trop raide.
published the 10/12/2022
Maurizio P.
super
published the 03/11/2022
Christine S.
La commande s'est bien passée. Délai de livraison et qualité super
published the 17/09/2022
Lionel D.
Très bien, conforme à mes attentes, je recommande !
published the 30/08/2022
Bernard H.
Pas encore utilisé, mais conforme à mon attente
published the 28/08/2022