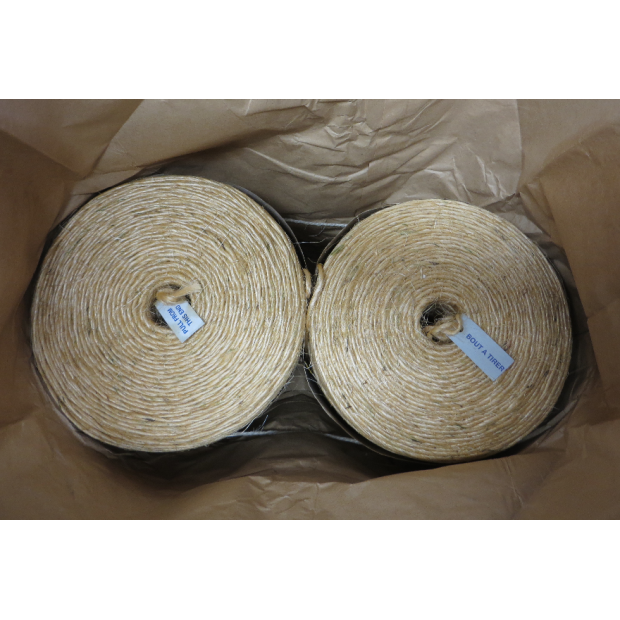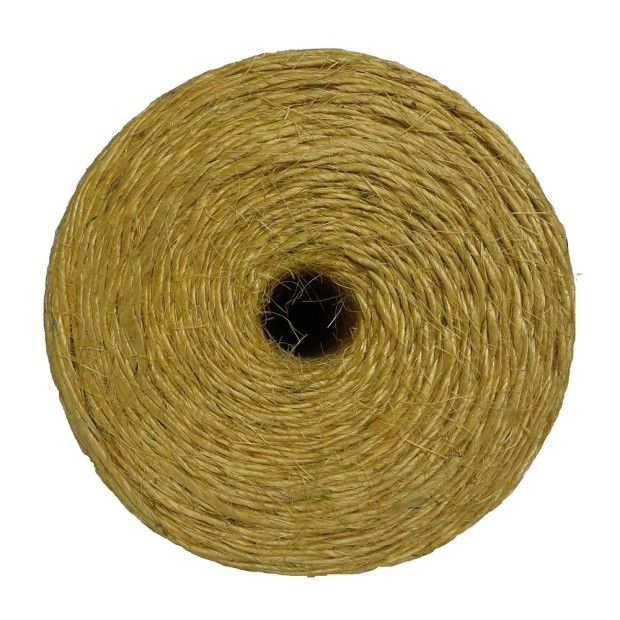 SISAL AGRICULTURAL TWINE Type 220
Agricultural Sisal Twine Type 220 for medium density press.Bag of 2 balls, weight 20 kg or 10 kg each. Anti-humidity and rodent proof treatment.
Agricultural Twine Type 220 for medium density press
Agricultural Sisal Twine Type 220 for medium density press. By bag of 2 balls, weight 20 kg or by unity of 10 kg. Anti-humidity and rodent proof treatment.
Packaging :
Bag of 2 balls
Bag weight: 20 kg
60 bags / pallet
Palletizing: 1200 kg
Features :
180 meters / kg
Breaking strength: 110 kg / ML
Color "yellow"
Standard reference 220, which can replace references 175, 185 and 200

Please check the size of the twine location before ordering

Make an adjustment and/or remove a little thickness in order to adapt our reference to your press

Compliant with standards
Treatment: anti-humidity in oil and anti-rodent
Dimensions :
Wire Ø: 0,3 cm
Ball Ø: 25 cm
Height of Balls: 25,6 cm
Uses :
For medium density press
Flax / straw harvest
Advantages :
Permanent stock
A quality recognized by the distribution industry
A breaking strength in accordance with standards
Uniformity and consistency
Natural, biodegradable
Selected long fibres, a guarantee of quality
Guarantees a regular and strong twine
Safe livestock feeding
Unwinding from the inside of the ball with a label indicating the end to be pulled
Environmentally friendly: made exclusively of natural fibres, sisal twine helps to limit the environmental impact of its consumption
Tips :
Equivalences: agricultural sisal twine is thicker than agricultural plastic twine
Storage: Store the twine upright in a correct direction and do not throw it away to avoid abrasion.
Store in a cool, dry place, away from dust and moisture.
The sisal agricultural twine type 220 is a little thinner than 175, 185 and 200! One adjustment may be sufficient for use
Check the diameter and height of your compartments. If the twine roll is thicker, it will be necessary to remove some twine to adapt it to it.
On a low-density press, the principle of sisal and plastic twine is not the same. The knife must be perfectly aligned in contact with the knotter disc and the notch of the knotter disc must not be dug.
Notes :
Most farmers have switched to 350 polypropylene (plastic) twine, which is stronger and cheaper per kilo.
On the first medium densities, some modifications had to be made so that the machine could switch from sisal to synthetic. Then the beaks all twines solved this problem
Some presses will accept this sisal twine under adjustment conditions
We reassure all our conservative customers, our agricultural sisal twine is kept in stock and can be delivered within 24/72h
A bit of history:
The name "Sisal" is derived from the port city of Sisal, located in Mexico, from which the fibres were shipped worldwide. This sisal plant fibre (Agave sisalana) is a plant that gives "hard fibres" used for rope making, twine making, collecting bags, furniture.
Sisal made the central Yucatán region rich between the end of the 18th century and the 1920s, particularly with the market for links for reapers and binders.
Until the 1970s, this fibre was known to European farmers as a twine used to bind flax and hay bales. Since the advent of high-density presses, it has been replaced by plastic "polypropylene" (plastic) twine.
Sisal twine is fully biodegradable. It remains the longest and most resistant of all plant fibres. It then receives anti-mould and rodent treatments.
A partnership with one of the world's leading sisal producers allows us to offer you a twine that meets the requirements of current standards:
Sisal twine remains an essential accessory for agricultural activity.
Technical sheet
Reference

AR02648

A - Matière

Sisal

AA Poids
Customer review
Une paire de pelote et de mauvaise qualité la ficelle ce déchire pas intermittence toutes les 10 bottes environ La preuve et que j'ai sur plusieurs zones de la ficelle pu la déchirer facilement à main nue ce qui ne fait pas une résistance de 100kg J'espère que les deux autres paire n'auront pas ce défaut
Produit de bonne qualité.
satisfait bien que le port soit un peu cher