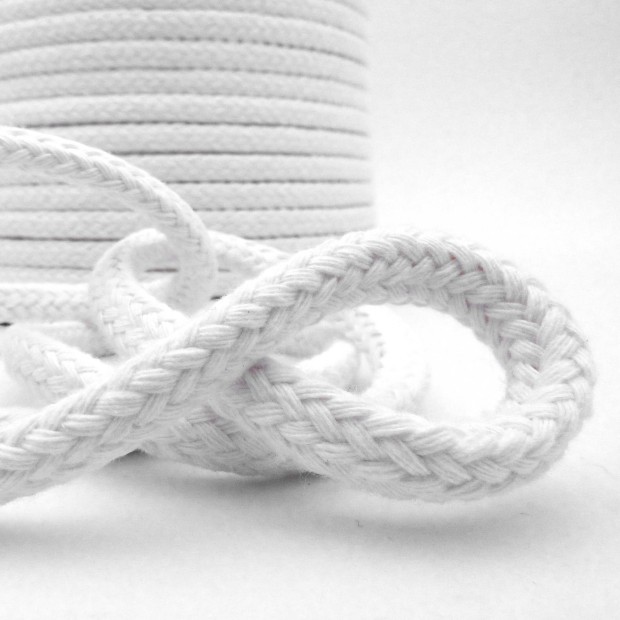 Core-less Bleached Braided Cotton Rope
Bleached Braided Cotton Rope "Magician" - Core-less - 100m bobbin or detail by the meter - Available from stock in 8mm, 10mm and 12mm - Traditional range - Made in France
Core-less bleached braided cotton rope , ideal for Magicians
The cotton braided rope, a natural, ecological and biodegradable, preserves well, has a slight elongation and can be cleaned very quickly. This cotton rope is particularly appreciated for creative and craft work (ideal for Magicians). Our high-quality braided cotton rope can be dyed, it is soft and hypoallergenic.
Technical Features

 :
Material: Cotton
Quality: Natural, ecological and biodegradable
Diameters in stock: 8, 10 and 12mm
Colors: White
Packaging : Ball +/- 100 or by the meter
Specificity: Coreless
Properties: Very soft, very flexible, very soft, very easy to tie, very good resistance to knots
Tolerance: Diameter, length, strength and weight +/-8%
Non-contractual photo
Features :
Soft
Flexible
Lightweight
Form keeping
Good grip in hand
Very easy to tie
Does not float
Low elongation
Can be dyed and washed cold (preferably in a net, short cycle)
Moisture resistant
Use

:
Creative arts DIY
Wall weaving
Jewelry
Curtains
Handbags
Plant hanging lamp
Magic
Basket
Dream Catcher
Cushion repair
All kinds of DIY
Gardening
Smart Ideas :
Remove the core and insert an electrical cable to disguise a suspension.
Remove the core and insert a steel cable to hang a decoration, indoor swing....
Manufacturing :
Our Braided Cotton Ropes are made in France. This gives the rope a flexibility and a much higher quality than those found on the market.
Technical sheet
Reference

AR00737

A - Matière

Coton

Type de corde

Corde tressée

A - Diamètre

8 mm
10 mm
12 mm

A - Longueur

100 m
Coupe au mètre (un seul bout)

AA Origine

France
Alain G.
Parfait pour les magiciens
published the 23/01/2023
Laurent C.
RAS correspond à notre besoin
published the 09/08/2022
Sergio D.
Produit de qualité
published the 06/08/2022
Alain B.
très beau produit. Je recommande
published the 13/04/2022
Anonymous customer
Super
published the 02/08/2021